Valentine's Day gift idea : say "I love you" with a couple portrait
Offer a unique Valentine's day gift : a 100% customised couple photo
- In 2020 you gave her flowers - hmm too basic
- In 2021 you took her to a romantic restaurant + a walk in the moonlight - it's great but it's a little bit cliche ...
- In 2022, a beautiful ring to fix your love - wouaaa it's beautifuuul!
This year, the surprise will be even greater: our graphic designer-cupid has made an original Valentine gift, a totally personalised painting of you or your dear and tender!
Indeed, to succeed a Valentine's gift, what's more beautiful than immortalising your love with a nice personalised couple photo ? Romantic, bohemian, fashion or even fighting ... You know perfectly your half, so you know what style of portrait and what universe will match best. Let yourself be guided by our selection ...:
>Create a personalised canvas for Valentine's day
Lovers' Day is February 14th, it is never too early for us to design your gift : you will celebrate peacefully your union with a duo portrait.
Our Valentine's Day gift ideas to celebrate it with originality
Votreportrait.fr draws the first arrow and offers below some examples of personalised portraits. For Valentine's Day to be YOUR Valentine's Day!
A personalised portrait in samurai manga
His courage is worthy of the greatest samurai ? She knows how to handle the saber like nobody ? Give your half a personalised Valentine's day gift that looks like a feature: a portrait in the manga spirit that will please couples who are complicit and in love with Japan. All you have to do is to invent the bubble of your story.

> Your samuraï couple manga portrait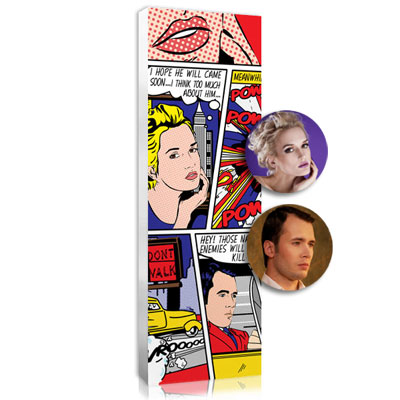 A personalised couple photo in pop art Lichtenstein :
He's a little macho in his car?  Do you like glamor poses ? Are you a fan of explosif pop art ? The ideal Valentine's day gift: offer him his personalised photo in Lichtenstein style that will perfectly match the wall decoration of your little love nest. That way, it will always have you within reach and will constantly think of you

> Your personal photo in Lichtenstein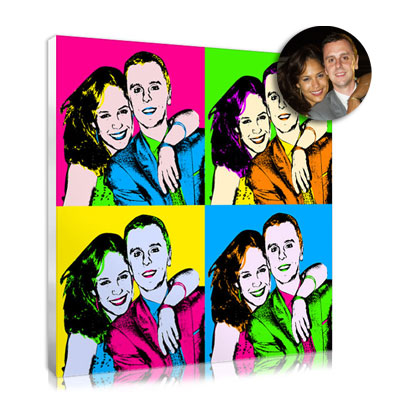 The pop art portrait for a glamorous Valentine's Day!
Andy Warhol tells you something? But yes, Marylin Monroe in all colors in sexy poses, it's her work! Play like Marylin with your dear and tender: pop up to become the star of your apartment! Your wall decoration will be refreshed and it's already a good start to become famous with your friends.

> Your Pop Art portrait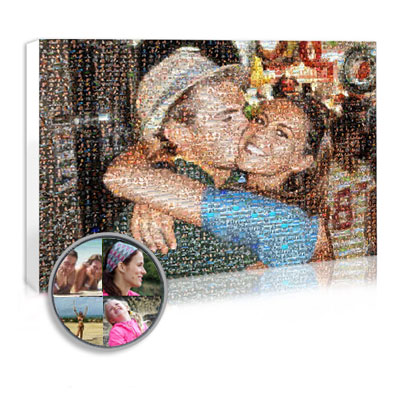 A mosaic with your memories photos: an unforgettable gift
Ah nostalgia ... when you hold us ...
Offer a surprising Valentine's day gift : a portrait of a couple made up of your best memories: your meeting, your holidays, the parties with your friends. The main photo is recomposed by thousands of small photos, YOUR photos. In addition, this work is made by our talented graphic designer!

>Your mosaic with your couple photos



A personalised portrait made by professionals
To get your personalised Valentine's Day canvas, send us your couple photo and we'll do the rest ! Our graphic-illustrator will digitally draw your faces in your favorite style and send you a preview before printing it. In order to make the surprise perfect, you can ask her for some modifications until you are satisfied. Your file is then printed on a canvas or a glossy photo paper. Everything will be carefully packed and shipped in few days!
Choosing options, ordering, sending a photo ... Here below are the different steps :

>Choose my custom canvas style
Here below is a sketch portrait created for one of our clients. Each line of the face is drawn with a graphic palette, colors and spots of color are applied subtly to highlight the married couple.

Discover more examples of couple portraits by browsing our Valentine's day gifts collection. Everything to crack your half!


We answer with pictures to your frequently asked questions, but you can also directly contact us at contact@votreportrait.fr.