Original gift idea for Christmas: Offer a personalised portrait
This year, live a Christmas that looks like you ! We have many creative ideas and propose you to offer a personalised Christmas gift. Everyone will find happiness: a photo mosaic for the entire family, a graffiti poster for your angry teen's bedroom, a pop art portrait for your beloved wife, or a kawaii manga portrait with the photo of your adorable baby ...
For a child, a couple, a family, a lover ... find the Christmas gift idea that will please the receiver! According to his tastes, his passions or his favorite colors, we create a totally personalised portrait from photo. So go ahead, sort your photos to only keep the most beautiful, and then just choose your portrait style. We will transform your Christmas gift idea into a real artistic portrait.
So there is no point in rushing into the big stores to find a Christmas gift idea too quickly, let us rather create your personalised portrait. With one or more person, it's a bluffing idea, 100% unique and from 33 £, with a large choice of styles for young and old.
Good to know  From your order and reception of your photos, it takes a period of 6-8 days (excluding weekends and holidays) to receive your package. A photo is good enough to make a portrait should be well lit with faces taken close.


Our Christmas day's gifts selection

All you have now is to find The personalised portrait to offer at Christmas that will please those you love. Here below are some examples of Christmas gift ideas :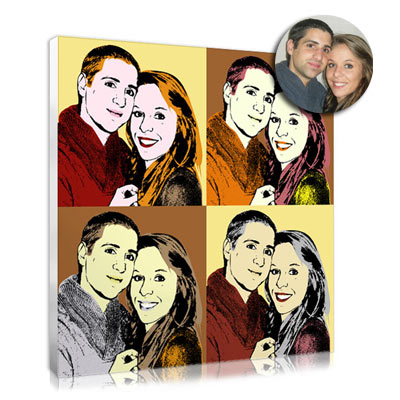 An Andy Warhol style pop art portrait for your lover
For all the colorful lovers, a gift inspired by the awesome Andy Warhol. Find the couple photo that will highlight your complicity and let us do ... Moreover, this pop creation exists in many customisable colors to harmonise perfectly with your decoration. The pop art couple portrait is timeless and stay our most popular Christmas gift idea.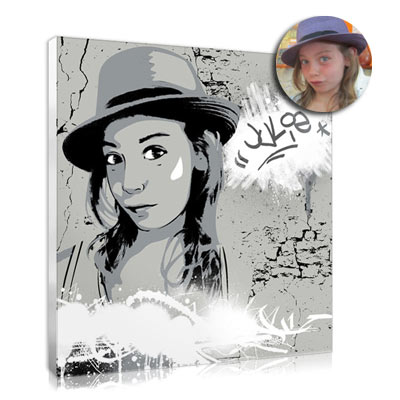 A graffiti portrait with the picture of your child
For your rebellious teens, give a personalised graffiti text portrait with its stylised photo and tagged name. A bombshell in a street art trend, perfect to make happy your child's fan of graffiti ...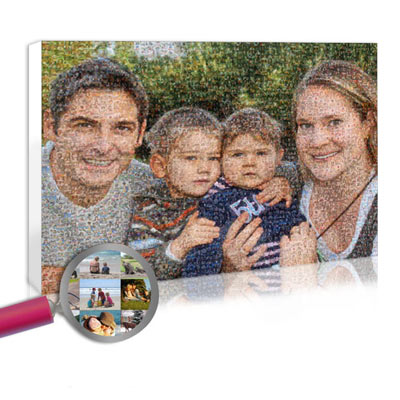 A mosaic picture at the foot of the tree
Give grandma a mosaic picture with all her family memories! Choose a picture of his beloved children and grandchildren and send all the photos that fill your albums. A Christmas gift idea very touching that will certainly make her full of joy.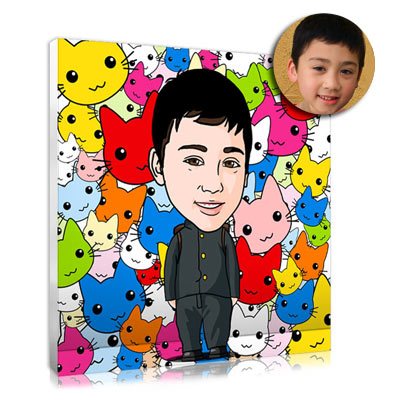 A Kawaii photo for your cute baby
Manga inspired, the kawaii picture is the cutest of our portraits. The face of your little one is nicely caricatured by our graphic designer, and integrated in a decor with customisable colors. An original Christmas gift idea will rock your baby in a fairy and colorful world...



A Christmas gift made with care
Votreportrait.fr is inspired by trends and greatest artists like Andy Warhol or Jackson Pollock to develop models of portraits with varied universes. Each portrait has his own style and technique elaborated before by our team.
With our experience in creating custom portraits for more than 10 years, you will benefit from our know-how at every steps of your project.
The creation of your portrait is done by a professional graphic-designer from your favorite photo. As many models as different processes to arrive at the final result. For example, the lines and shadows of a "Splash" face are reconstructed and paint patterns are then applied, while a "manga" portrait is completely redraw and integrated into the decor. Here is also in summary and in image the different steps of manga style creation:

The face is digitally created on a computer with a graphic tablet. Then the file is printed on stretched canvas or photo paper to give birth to the portrait. The manufacture on each support is artisanal and benefits from our Art printer expertise.
Go now find your favorite Christmas gift idea and start creating your portrait! Share your hapiness to your loved ones by offering an original present, in order to make this Christmas an exceptional moment ...