Modern Portrait
A design and modern portrait that looks like you!
Refined graphics, trendy colors, the modern portrait mixes perfectly with a design wall decoration. With the color splash portrait, we proposed you an explosive creation influenced by the works of art of Jackson Pollock. Here, we choose to create a simpler but no less artistic design ! The photo being recomposed by colors or lines, the design is therefore rather sober. We imagine the features of your photo in order to reduce them to the essential, all in more current tones. In some short words, a beautiful modern portrait!


A design wall decoration for your living room
Are you looking for an original and unique personalised portrait from photo ? Choose a modern portrait that looks like you! Whether your interior is sober or colorful, this style of creation will make it a really trendy place. Composed of bright colors and delicate lines, this refined illustration that we have created for you will embellish your living room. Conceived by our graphic designer from your favorite picture, the modern portrait will immortalise a moment of your life in an artistic and contemporary way.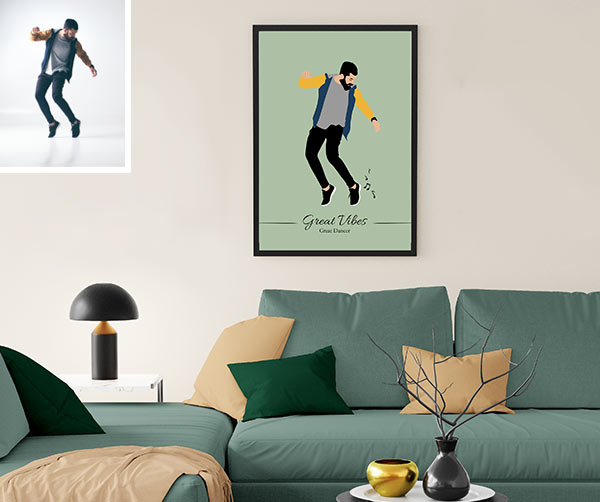 The mix of colors and the finesse of the graphics style will therefore allow you to create a design wall decoration. The luminous aspect and the minimalist side of the work will then transform your room a spacious place. This choice of portrait also seems judicious if you do not want to overload a small space. The fineness graphics of a modern poster is also suitable if you want to renew the decoration of your walls. Indeed, the delicate and somewhat abstract side of the composition will be perfect for adding a touch of freshness to your interior!
A personalised gift to offer or to offer yourself
More than a design wall decoration, your stylised photo turns out to be an original gift idea if you are out of inspiration! To offer yourself or offer to a loved one, the modern portrait made in Votreportrait.fr is the perfect present to immortalise your most beautiful memories. Do you want to surprise your other half for Valentine's Day? Do you need originality to mark the spirits at Christmas? Or more simply, do you want to stylishly transform one of your favorite photos? This personalised object will surely seduce you.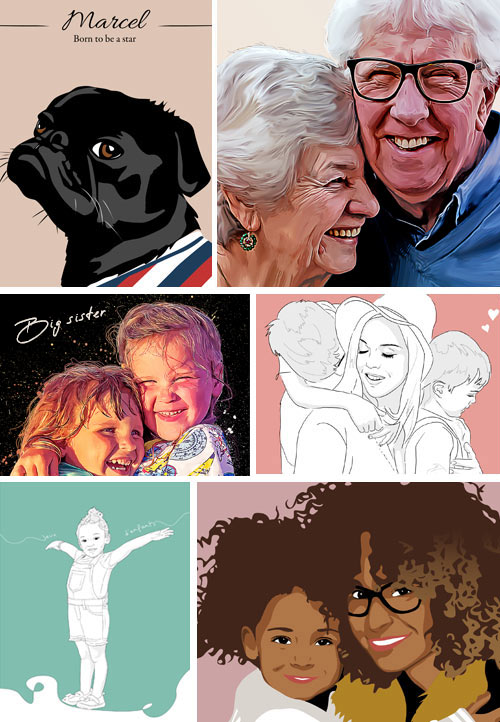 To give you an idea, above are some examples that have already been made. Created with passion by our graphic designer, printed and carefully packaged in our workshop, this modern portrait from a photo will reveal all the beauty of your features! With each creation made in this style, we emphasize the finesse of the lines, curves and solid colors for an extremely simplified rendering. The final effect of your personalised painting is subtle and it is this minimalist side that will give character to the room.
How do we create your custom modern portrait? 
First of all, this kind of portrait perfectly suits with entire silhouette photos. The details of the face seen up close remain almost secondary here, the important thing being to characterise the person in general and their attitude / position in the photo. This also allows for an airy and balanced creation. However, we can stay on a portrait image (up to the bust) as with most of our other styles!
Furthermore, our goal with the modern portrait is to reduce the details of the photo to the essentials. Removing the superfluous, this could be our leitmotif for this style! For example, here are the steps for creating a personnalised illustration in Line Art :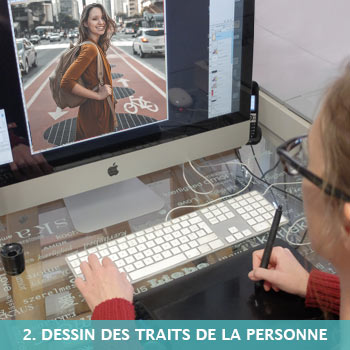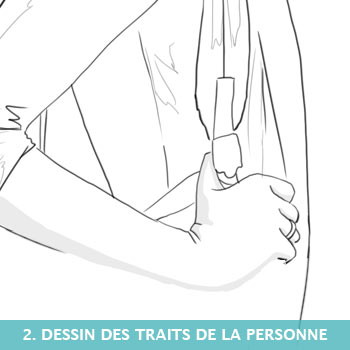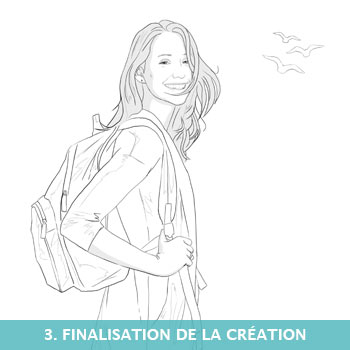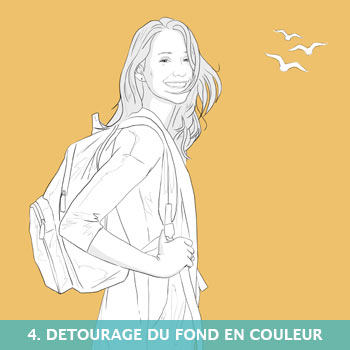 - After cropping your shot, our graphic designer draws the lines of the photo with a graphic palette (on a computer), while adding light gray shadows.
- Curves are added to bring dynamism to the composition. If you have chosen it, text will also be entered, always consistent with the finesse of the graphics.
- Finally, the background can remain white as in the classic version of a Line Art painting, or be outlined and colored.

Our graphic designer then sends you a preview before printing so that you can validate the creation. The file is printed and packaged by us within a few days. The printing supports, canvas stretched on wooden frame or photo paper must be chosen during your purchase. You will receive within 7 working days an original decorative portrait create from your photo, and 100% made in France!