Offer an original and personalised Mother's Day gift
On 19 March 2023, you must offer a gift to your mom, but which one ? Don't search ideas more longer and surprise her for Mother's Day ! An original Mother's Day gift ? Amazing ? Poetic?  Whatever her personality, find the personalised portrait that will make your mom happy. So take the opportunity to satisfy her for this special occasion with our selection of personalised gifts created from photos. A nice way to live a unique Mother's Day.
> See our special Mother's Day gifts selection
Choose a Mother's Day gift different from previous years: a touching artistic canvas that will harmonise perfectly with its interior decoration. Because it can be difficult to please our mom, we are here to give you advices on the portrait style to choose and the photo that would be best for your Mother's Day gift. The personalised portrait, whatever its style, can be a beautiful way to express your feelings. For example, our Roy Lichtenstein style portrait will allow you to write a sweet word in the bubble text.
Because your mother is well worth it, do not hesitate any more, offer her a personalised painting on canvas! An original and unusual gift idea for Mother's Day to discover on Votreportrait.fr. You will find something to please your mom among the many styles of decoration canvas and personalised photo that we propose.

To remember  All our creations are entirely handmade by an artist who works every line of the face to the graphic tablet. Your painting is then printed on a poster or a fine art canvas.
> Turn your mother's photo into a real piece of art !

Our Selection of Mother's Day gifts

Here is a selection of customised portraits of Mom that will become an amazing, surprising and moving Mother's Day gifts. Unique portraits for mothers who have a great personality !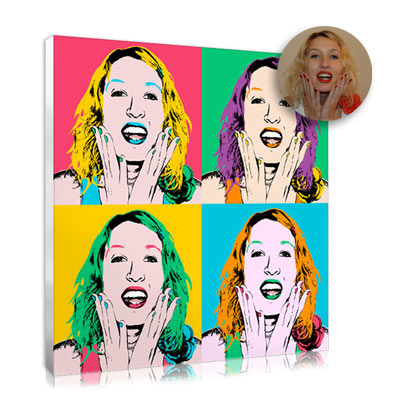 Pop Art: the best seller for the best moms !
Because every mom must have her moment of glory, the colorful pop art portrait in the famous Marilyn Monroe style is the Mother's day gift idea you need !
Alone on stage or accompanied by her children ... The pop art portrait will suit to the occasion and make of this Mother's Day gift an unusual decorative object. 1 or 4 boxes, flashy or black and white, a large choice of sizes and colors are available to match your tastes.

> Create your Pop Art canvas portrait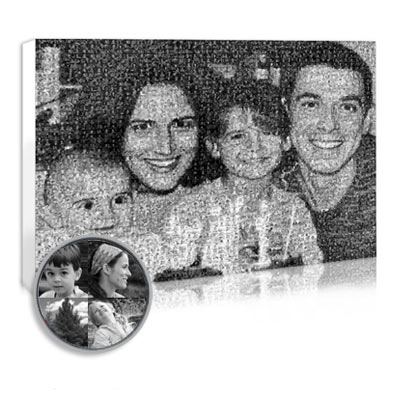 The Mosaic Photo :
Nostalgic people can bring out the old albums and explore their hard drive in search of souvenir pictures that sleep there.
Mom in photo mosaic, it is a unique and touching gift! The gathering of all personal photos is the most beautiful way to sublimate family memories. Entrust us your images, we will renew them in an emotion canvas.

> Order your Photomosaic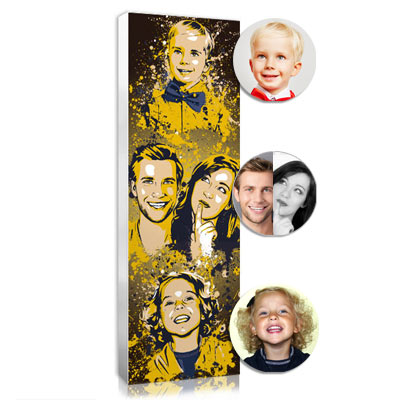 Splash: the family portrait that ... splashes !
Your mom is full of energy ? Offer her an explosive gift to celebrate Mother's day. A beautiful canvas inspired by the great American artist Jackson Pollock, known for his famous sprays of paint. An explosion of colors on a panoramic design portrait, this family canvas will become the centerpiece of the living room.
Furthermore, you will have a large choice of colors.
Accompanied by dad and children, this modern painting is the perfect gift for your mum.

> Create your colored family Splash portrait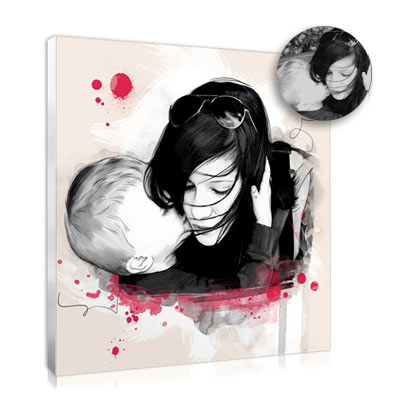 The sketch portrait : an elegant painting for her trendy interior! 
Her personalised photo in a sober and minimalist sketch, with a bit of sweetness and poetry. A personalised portrait style that puts her in the spotlight thanks to its subtlety and light touches of color. Alone or with her family, choose the most beautiful photo and we will create a portrait that is both artistic and touching.
This original Mother's day gift is an elegant and subtle way to express your love to her.

> Order your sketch portrait



This is a non-exhaustive examples list, you will find other styles that will likely match his tastes among our selection of Mother's Day gift ideas. Do a more precisely research according to her passions : sports, cinema, travel, fashion etc ... Each mom is unique, so be creative and get started : send us her most beautiful photo, we will make his portrait with a lot of love! Whether the gift you offer, her portrait in Andy Warhol pop art style or his grandson in photomosaic, your mother will forever remember of this Mother's Day!