Offer a personalised Father's Day gift made by 
Votreportrait.fr
An original and unique personalised gift
It's a long time ago when you could please your dad with just a drawing on a sheet of paper ... Re-visit your classics now that you're adult! 
Because your dear dad deserves it, Votreportrait.fr, the specialist of personalised portrait, proposes to you some original gift ideas for his party: surprise him by offering him a portrait which looks like him at 100%!
And as each dad is different, a little guide to choose the gift that will certainly delight him is required :
> See our personnalised Father's day gitfs

A solo portrait or family picture ? On stretched canvas or photo paper ? The style is also important, it will be a reflection of his personality : is he dynamic, geek, or sentimental ? Does he like sport, travel or new trends ? Pop art, street art, comics, sketches ... Our graphic designer will turn him into a work of art for an amazing personalised Father's Day gift!
To note  This year, Father's Day will be celebrated on June 18th. We can create your portrait in 6-8 days, starting from your order and reception of your photos. It is never too early to prepare your surprise!
A personalised father's day gift made from a photo
Creation process  We make the portrait of your dad according to the photo you send us. For this, our graphic designer works on a computer using a graphic palette. We send you a preview by email, and after your validation, we print and ship it within a few days. The creation of the portrait is manual : each line of expression is carefully redesigned to obtain an original portrait which looks like him perfectly. For your gift to be perfect, you can ask some changes before printing.
To know everything about print medias, time of graphic creation, order process... Read our page describing personalised portrait's options.
Our personalised Father's day gifts selection
If you are looking for a moving, fun and artistic gift to offer to your dad, here are our suggestions of personalised father's day gift :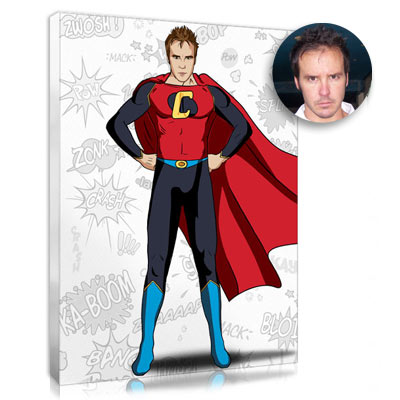 The superhero portrait : my dad this hero !
Who flies to the rescue of your clogged sink or just change your broken tire on a deserted road at night? ... It's super daddy of course! Here is a superhero portrait to the glory of the hero of your life. From a photo of your dad, we draw a comic book portrait and then print it on canvas or poster. You can even customise the badge on his costume with a symbol or a letter.
The Splash style: A 

color splash portrait
Do you want to give a personalised Father's day gift to your dynamic dad ? Our graphic artist has created a custom portrait with Splash style just for him! Splashing Jackson Pollock and the contrast of colors will make a trendy deco portrait that will sublimate his personality. A perfect gift for dynamic and sporty dads!
His

photo to cartoon

 : for dads fans of bubbles
His biggest passion is football? Is he in front of his television every time his favorite club plays? Put it on the stage in a sporty comic strip portrait! Tell us his favorite team, the color of the shirt, invent the text of your bubbles, and we take care of the rest! Turn his love for the balloon into a perfect personalised gift for Father's Day.
The 

mosaic picture

 for dads addicted to their camera
Go on a quest for all the important moments with your darling dad! How? By collecting family photos that sleep in your smartphone, your old computers, your hard drives or your paper photo albums. We will then assemble them to make a touching creation! The photo mosaic canvas is a funny personalised Father's day gift, because from afar appears the main photo and up close, all your little personal photos.
If you'd like to give your father a special gift, check out our Father's day gifts selection. For this occasion, we have created unique portraits from his photo. Each model proposed is customisable to become an artistic and moving portrait in its image. And if you have another decor idea, a question about the choice of the photo or a specific size request, contact us and we will talk together about your personalised gift project for Father's Day. No doubt, this small mark of attention will certainly make him happy!